What is a fractional CMO?
Written By Bethan Vincent.
You know you need to hire a talented marketing executive to move the needle in your business, but the resources simply aren't there. You want someone who can take control of your marketing operations as a Chief Marketing Officer (CMO), but you aren't in the right place for a full-time addition to the team.
For both start-ups and scale-ups, hiring an experienced, mid-career marketing specialist is usually out of the question from a budgetary perspective alone. Bringing in a senior marketer on a part-time basis as a fractional CMO can often be the best solution for driving results quickly in a cost-effective way.
In this post, I'm going to cover what you need to know to make a fractional CMO hire, answering everything from "what is a fractional CMO?" to where to find someone who fits the brief for this type of position.
What does fractional mean?
The clue is in the name with this one – you're getting an expert marketer for a fraction of the time, and price, of a full-time employee. Most fractional CMOs work directly with clients on a contracted basis, typically as a consultant or freelancer. They're usually retained for periods between 3 and 12 months, depending on the business's needs.
That often comes down to:
Current marketing resources – Who do you already have in the marketing team and what role do they play? What skills gaps do you need to fill?

Strategic objectives – What are the marketing and business growth goals over the next 6 to 12 months?

Budget – How much can you pay a contracted executive and for how long?
While long-term contracts are generally the most popular option when hiring a fractional CMO, you can also work with someone on a project basis. If you're new to this type of working relationship, a project can be a great way to see how your hire fits into your existing team structure and ensures that both sides are comfortable working together.
What does a fractional CMO do?
While a fractional CMO may only be working with you for a handful of hours each week, the work they do is no different from that of a full-time, in-house CMO.
Their main responsibility will be to define and develop a marketing strategy that aligns with the company's objectives. Unlike a marketing agency, whose job is to execute specific work tasks and requires ongoing direction, your fractional CMO focuses their full attention on developing and delivering the marketing plan that will help you to achieve your business goals.
Your fractional CMO will set and review marketing objectives throughout the period that you're working together, while coaching, mentoring, and supporting junior members of the marketing team. Ultimately, they'll "own" your marketing and be accountable for its success.
As a C-Suite consultant, your fractional CMO will also work with the business stakeholders to manage and deliver cross-functional initiatives. This will likely involve close work between this individual and other key teams like engineering, product, and sales.
Many businesses hire fractional CMOs to help them prepare to hire an internal employee. Your consultant can support this by providing expert advice on operational and departmental design as you scale up, outline necessary qualifications for each role, and screen candidates for any open marketing positions.
If you need to bring on additional freelancers or an agency partnership, your fractional CMO can also take care of the hiring and management of these external resources.
How does a fractional CMO work?
Every consultancy will run their operation differently, but at Open Velocity, we work with our clients in a hybrid system – this means that you'll have a mixture of both on-site sessions and remote collaboration. Remote work allows us to provide top global talent with no location restrictions, which means you'll get the best match for your business.
Fractional CMOs typically bring wide industry knowledge and best practices from across a diverse client base. This means they're expertly positioned to advise on what you need from them in order to achieve your goals. They'll be able to let you know, based on your conversations, what the scope should look like and how this fits into your proposed timeline.
How much does a fractional CMO cost?
The average salary for a CMO in the UK is just over £100,000; in the US, the average is around $176,000 a year.
Retained engagements with a fractional CMO can start at £3000 per month and can be scaled up or down based on your needs and budget. It's not uncommon for clients to start with Open Velocity for a 3-month large scale project, then retain us for a smaller fee on a long-term basis.
By working with a fractional CMO, you're benefiting from senior expertise at a significantly reduced cost. Many consultants have sat at the boardroom table of the world's biggest companies and now work independently to provide flexible support as and when you need it.
Who should hire a fractional CMO?
For some companies, it doesn't make sense to hire a permanent member of staff at this stage of their growth. We know that one of the biggest challenges facing start-ups is getting early traction, and having a senior marketer onboard is the best way to navigate the early days. Someone to nail your proposition, positioning, and marketing fundamentals is key to success.
But let's be honest. Most start-ups don't have the budget to make their first marketing hire at this experience level. Instead, a fractional CMO can be the launchpad you need right now to identify your growth potential, without the commitment and cost of a full-time hire.
Established businesses can also benefit from a fractional CMOs expertise.
Organic growth, combined with a product or sales-only approach, may have worked for you until now. But if you're feeling stagnant and want to diversify your marketing channels, bringing in a fresh set of eyes can often restart the motor. A fractional CMO can provide a thorough audit of your current strategy, plans, and technology, before making suggestions for improvements that can accelerate the velocity of your growth.
One of the biggest benefits of a fractional CMO is that they can easily fit into your existing marketing team. They'll provide mentorship to junior staff, while also standing in as the marketing department's representative at board and stakeholder meetings. With previous experience at this leadership level, they won't be phased by these high pressure and high accountability meetings.
How to become a fractional CMO
If you're looking to become a fractional CMO yourself, you'll need to have extensive experience in the field. Previous positions as a Marketing Director or CMO-level executive will be essential.
Clients will be expecting you to have a solid background as a marketing generalist with team management experience and a proven track record of influence at the C-Suite level, so you need to be able to fit this brief.
Before striking out on your own, leverage your current network to start and build relationships, while building your work portfolio with a handful of cornerstone clients.
If solo consultancy isn't for you, you can join the consultancy team at Open Velocity as a Senior Partner. You'll get all the support benefits that come from working with a wider team of consultants, along with continued professional development and support to grow your client-base.
Why hire a fractional CMO
An external CMO is a great opportunity to get a fresh perspective on your current marketing operations, with senior marketing expertise that you may not have on your existing executive team.
Particularly if this is your first marketing hire, your fractional CMO will free up time for your founders and other C-Suite executives to focus on the wider business issues and operational challenges you might be facing.
For a much lower cost than a traditional CMO hire, you'll have access to top expertise and leftover funds to re-allocate to other areas of the business. Not to mention, your junior employees will benefit hugely from the experienced input of your fractional CMO and can quickly become valuable in-house assets to take over the reins once your consultant's contract ends.
Where to find a fractional CMO
When you're looking for a fractional CMO, start by asking around your professional network. Look for solo consultants with a track record in your particular industry, especially if you know they've worked with competitor businesses in the past.
You can also go directly to consultancies like Open Velocity when you're looking to engage fractional CMO services.
More posts you might be interested in
As well as our blogs, webinars and podcasts, you'll regularly see us speaking at industry and sector events. Next up, we'll be sharing our thoughts at…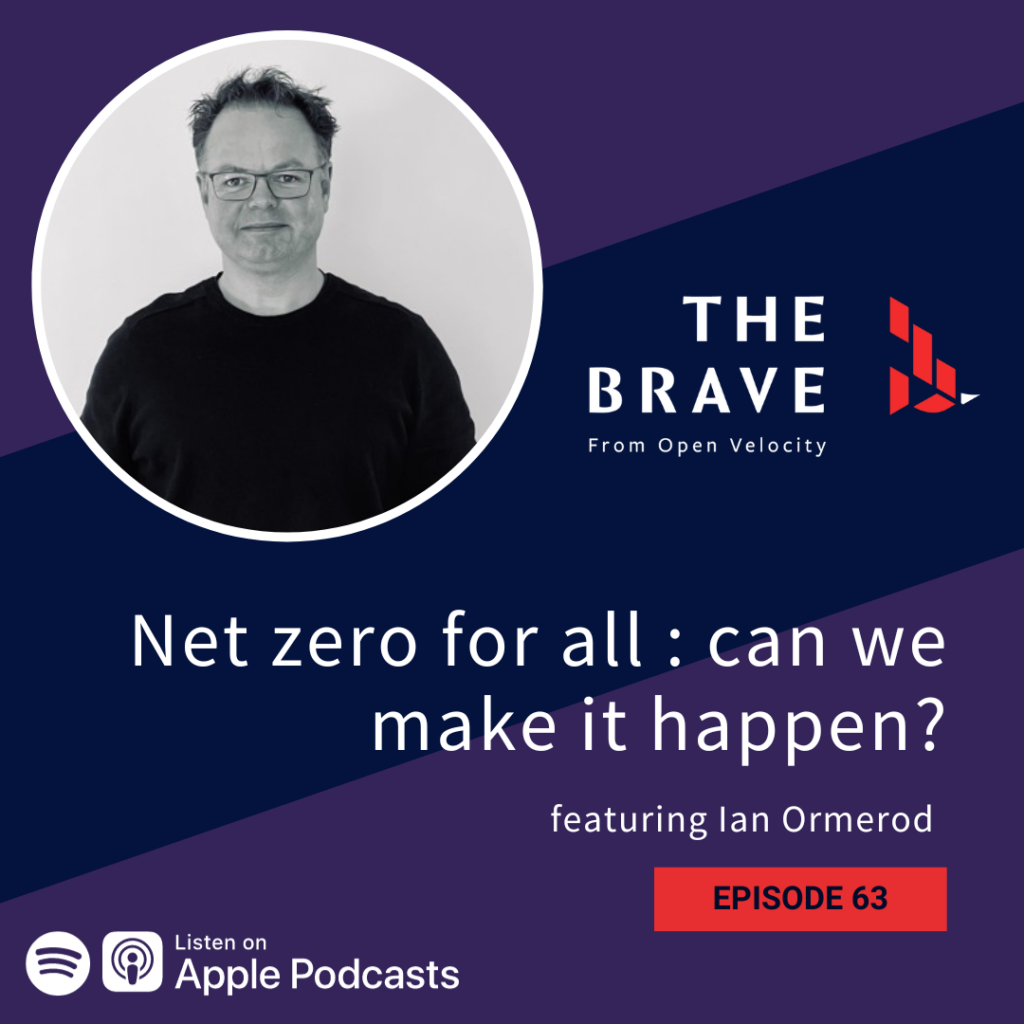 Net Zero for All: Can We Make It Happen? #63
As we step into the week of the 2023 United Nations Climate Change Conference (COP28), we're excited to share our latest episode featuring an insightful conversation...
Read more
Stay tuned in
Sign up to get our latest content and priority event invites.