Is your marketing building trust in your brand?
Research by GWI and Edelman has indicated how trust is a commodity in increasingly short supply.
Governments, banks, big brands, news organisations and social media companies – they all saw their trustworthiness take a significant hit in 2022.
Immediate challenges, such as the issues of rising prices and political upheaval in the UK and across Europe, are themselves significantly undermining trust. However, it's the issues that are likely to endure over the long term –  misinformation and fake news, data leaks, ambiguous operations,  opaque communication, and misleading environmental claims – which will most impact brands and businesses' ability to grow.
As the battle for consent and first-party data intensifies, the capacity that brands and businesses have for maintaining and building trust with various audiences (not just customers) is being redefined. As consumers we're all increasingly aware of the value of our data, and the lengths brands will go to get it.
As part of this redefinition, there are opportunities for competitive advantage through proactive management of trust. Take Pinterest's proactive stance of zero tolerance to Covid-19 misinformation – a position that helped maintain trust with its users and no doubt boosted its trustworthiness among non-users. A stark contrast to the way Facebook's various scandals have impacted its public perceptions of trustworthiness.
Without a proactive approach to trust, driving volume for top of funnel activity will become increasingly difficult. At the other end, consumers and businesses will use trust as a north star to help guide increasingly complex decision making.  After all, through periods of significant change – and the 4th industrial revolution will certainly be that – consumers and businesses alike seek reassurance and reliability while becoming more risk averse.
It won't be long before the internet is further flooded with content, driven by the ubiquitous access to AI technology. And despite this, there is still opportunity. Edelman recently published research which showed 50% of business leaders spent an hour a week or more consuming content and yet 71% said that less than half of what they consume gave them valuable insights. Insights like this, coupled with an ever fragmenting media landscape, will have us all increasingly reliant on highly curated sources of trusted content and information.
Another example is Uber's partnership with town planners in Boston, US, where ride pattern data is being shared to optimise traffic routing, road layouts and schedule maintenance. This partnership has huge potential to improve efficiency for the city of Boston but is based on Uber's customers being aware of, and happy with, how their personal data is being used. That in turn is based on how much the individual trusts Uber to be transparent and fair with its use, its ability to provide something valuable in return, and store and manage it safely. (And this hasn't always been a happy place for Uber)
How to start thinking proactively about trust
Trust is one of the few weapons brands and businesses have in their arsenal to reassure their customers and to create a source of competitive advantage.
We suggest a 4 step approach:
First, focus on your customer. The rapid market and lifestyle shifts we're experiencing will require businesses and brands to stay close to what their customers want. Their problems and issues will evolve as will the demands placed on the products and services they consume. What is considered relevant will shift and brands must remain meaningful to thrive.
Second, product or service quality is THE best way of building trust – so says the research (including recent pieces by JCDecaux and GWI). Product is the most important of the marketing mix levers and so delivering to, and exceeding, customer expectations is crucial. For this reason it should be first among equals with its Price, Product and Place counterparts.
Apple is a good example – whilst they're highly innovative and have one of the world's most powerful brands, it's the quality of their products that has helped to underpin their long term success. For critical product decisions, ask yourself how it would look if that decision was made public. Would it undermine trust? If so, rethink the decision.
When we think about quality, the phrase Minimum Viable (or Valuable) Product, comes to mind. I like the way Rand Fishkin thinks about this in his book "Lost and Founder". He explains how expectation is a big determinant of how a MVP is perceived by your audience and the wider market. A startup with no legacy and an initial product has little to no expectation in the mind of its audience – its products can afford to be a little rough around the edges. Contrast that with an established brand or business bringing a new product to market – there will be expectations that far exceed those of the start up – the characteristics of a successful MVP for both businesses will be very different as a result.
Third, build a process for managing the risks that undermine trust. This includes auditing how you handle data and consent – everything from the transparency of communication (what you'll do with it, to who and how you'll share and use it) – to establishing guidance on handling misinformation and your sustainability claims.
Fourth, brands and businesses should be reviewing their values and ensuring they're living by them – they should reflect the culture and demonstrably help inform decision making. They also say a lot about the brand or business to wider audiences, who are increasingly interested in what a business stands for.
One approach I like is Anne Miltenburg's Brand Thinking Canvas – a structured way of building a brand, starting with the very core of a business's purpose, building out with layer upon layer. Method's like this help to ensure consistency of strategic approach – the challenge then is to ensure consistency in execution.
However you build trust into your strategic planning, keep in mind that only 34% of consumers say they trust the brands they use, but 81% say trust is a deciding factor in their purchase journey. And wherever gaps exist between customer needs and experiences, opportunities lie.
Want to speak to us about building trust for your business, drop us a note. Whatever the marketing needs of your business, we start with a short conversation to see if we can help.
More posts you might be interested in
As well as our blogs, webinars and podcasts, you'll regularly see us speaking at industry and sector events. Next up, we'll be sharing our thoughts at…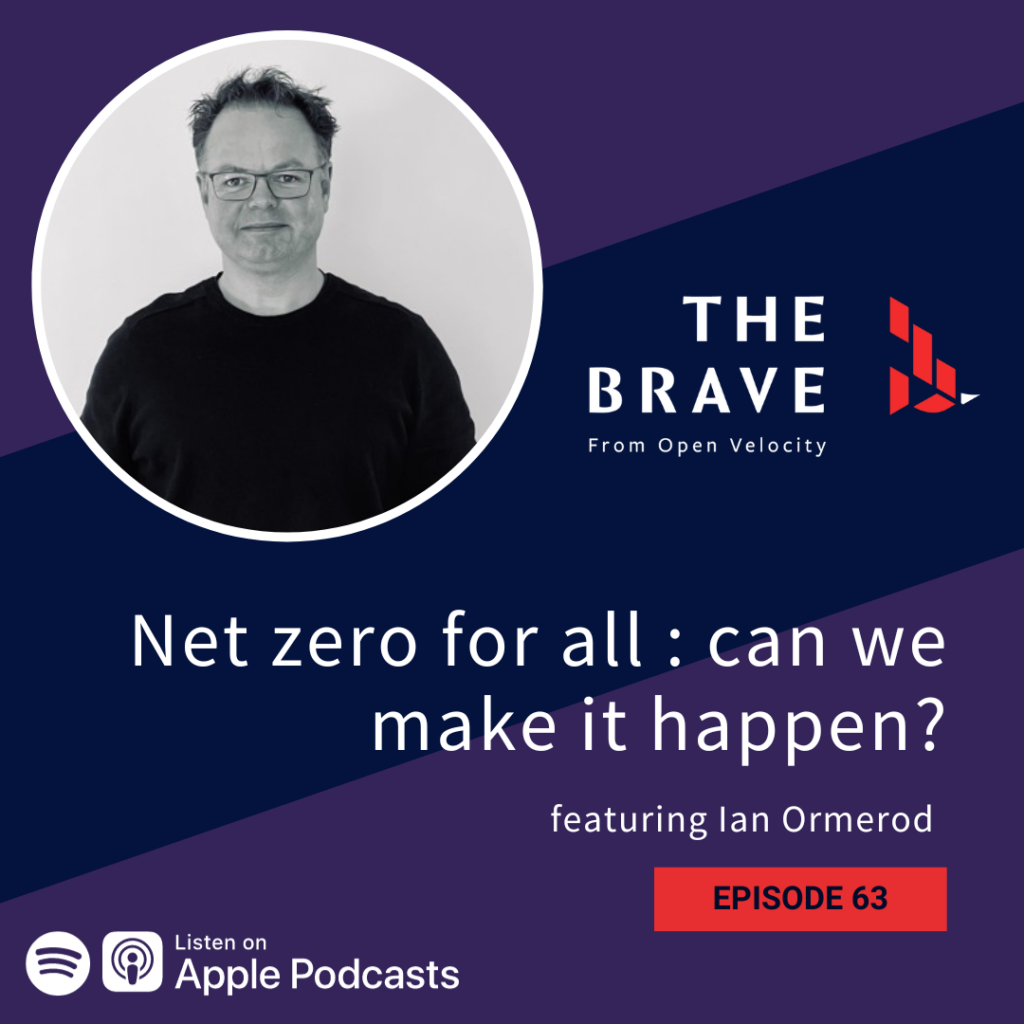 Net Zero for All: Can We Make It Happen? #63
As we step into the week of the 2023 United Nations Climate Change Conference (COP28), we're excited to share our latest episode featuring an insightful conversation...
Read more
Stay tuned in
Sign up to get our latest content and priority event invites.