Building Your Marketing Performance Capabilities
Written By Lisa Wood.
If you're spending money on marketing, you're doing it because you believe it's driving the overall success of the business – be that building a positive reputation or bringing in revenue. You need to know spend is worthwhile, measuring the impact to know that for sure. Track the data-points that shift when you spend, so you can make informed decisions on spend and activity. If the data is positive, do more, if it's not, do less. Being data driven means you have an informed view on how to build value for your business, knowing money is being well spent.
All makes perfect sense, but it can be difficult to achieve in practice, particularly when you've got offline activity that's more difficult to measure directly. So what's a good way to start to build visibility on your marketing performance? Keep things simple is my advice, and always be clear on your intentions for any activity you're doing. Only measure what's meaningful and get the basics right before trying to be too clever – it's very easy to get data overload!
Start activity by activity
In a smaller business you won't be spending big on marketing, but you'll no doubt have a number of marketing activities in flight. Run a quick audit and make a list – What are you doing? Why are you doing it? What do you expect to see as a result? Think about what would indicate that your activity is working. For example, if you're sending out emails, you want to see a low bounce-rate for emails delivered (quality of data), a good and consistent open-rate (shows people are open to your comms), a decent click-through rate (shows content is relevant) and low unsubscribe rates (you're maintaining their interest). Get hold of industry benchmarks if you can and see how you compare.
Go through this exercise activity by activity and map out a basic set of metrics. Most digital activities will have core metrics that you can measure and track – just be sure they're meaningful, based on the purpose of the activity, and understand the underlying data so that you can be confident in what the metrics are telling you.
Some activities are much harder to measure, for example PR, events, content plays. Here you have to think outside the box – if these activities are having an impact, what might you see as a response? You may see an increase in your brand searches, traffic to your website/specific pages, searches on LinkedIn, increased followers on social channels, increases to your subscriber base and subscriber engagement etc. The impact isn't direct, but you'll see indications in your data that something is working. Map out your 'lead' and 'lag' indicators and track them – lag indicators are slow to change, so your lead indicators cover more immediate behaviour you think you'll see as a result of your activity.
Always look for opportunities to capture data as people engage with you, particularly where there's a value exchange like event attendance, useful content etc. Having some direct data attributed to an activity helps evaluate its long-term value, but be eyes-wide open that this is a longer-term play.
Build full funnel marketing
So you've got your basic activity mapped out, but a key part of any growth strategy is to make sure you've got your full marketing funnel covered. You need to be raising the awareness and consideration of your business (getting more people to know about you and building a strong reputation), alongside driving leads and conversion. More people in at the top of the funnel means more out at the bottom in terms of revenue!
More generic brand activity is generally harder to track and directly attribute sales (see hard to measure activity tracking above), but as you invest, you'll see an increase in brand searches, as more people get to know you and act to find out more. Your overall cost per acquisition will come down, as people who are more familiar with your brand and reputation are easier to convert. As a result, conversion rates will increase and you'll see improving marketing efficiency at the lower end of the funnel.
If you're not familiar with a marketing funnel, then think about it as the multi-touch sales journey someone takes before they buy from you. First you need to grab their attention and get them interested (top of funnel), then you build up confidence that you're right for them through relevant and engaging information (mid funnel), then you get more specific to generate leads and convert to sales (lower funnel). This can be a short or long process, depending on the product and/or sector you're in.
Work out what's valuable to you as a result of the activity and what you can realistically expect the activity to achieve – set your definition of a conversion and what constitutes a 'lead' for the business. For example, generic paid search activity that results in the capture of an email address so you can continue to market to that customer, could be counted as a conversion for that particular activity as it's resulted in a useful lead.
If you've got activity running across the funnel, then tracking high level Key Performance Indicators such as cost per acquisition is useful to ensure your upper and mid funnel activities (often harder to measure directly) are contributing to lowering overall cost per acquisition and increased conversion metrics. In effect you're now starting to measure the overall efficiency of your full marketing mix.
If you've got multiple brand activities running and you want to know specifically what's working, then this gets into the more difficult box. You could stop an activity altogether for a period of time and see what happens to your metrics, although businesses often don't want to take this risk. Alternatively run a geographic/regional test, or look for specific correlated evidence of performance when the activity is running, e.g. strong PR article on x date leads to an increase in brand interest for a 7 day window following it being published. At the sophisticated end of the spectrum you can opt for econometric modelling, but it's costly and for most smaller marketing budgets won't commercially make sense.
Join up the journey
If you're more sophisticated with your tracking mechanisms and have the tech to piece together customer interactions to create a single view or multiple interaction journeys (think CRM solutions), then you can start to use your data in more creative ways to assess the value of the data/leads you're collecting and prioritise how you respond.
If the interaction journey demonstrates strong interest in your business/product, and you can link the activity to an audience segment that's of value to you, you can invest more of your marketing money to convert them. Investing in meaningful segmentation and scoring models to predict likelihood to convert and likely value, enables you to know where to invest your money and how to prioritise spend. Your marketing activity can be focused on specific tasks that drive overall value, meaning more efficiency in your spend. If you know who's converting and bringing good business to you, you can also build 'look-alike' audiences to find more of the same.
At this stage you're tracking the quality of the traffic and leads you're generating and where in the purchase journey someone is (think back to upper, mid, lower funnel) – you can then nudge forward with the right messaging and content (next best action). To inform your activity, think like a customer – What unanswered questions have I got? What would my next step likely be? What's stopping me from taking the next step? Build your messaging and content around this.
The key to successful marketing performance is knowing your audience and finding effective ways to approach them. The channels you chose to run your marketing activity in may change as the purchase journey progresses. Where you start the journey by raising their awareness of you is likely not to be the channel where you'll convert them. In short, think about your audience and the different jobs that need to be done across the purchase journey – then track the right metrics to show whether that job is effectively being done at each stage.
Get your audience right
Critical to all of the above is making sure your activity is being aimed at the right audience – minimise wastage and maximise the quality of the leads you're generating. If you're not targeting the right people you'll see low engagement, low conversion and your cost per acquisition will be inflated. This leads directly back to the importance of having a clearly defined target audience before you start any marketing activity (see blog 'Why Marketing Strategy Matters').
There's always the temptation to broaden your approach and go for more volume to try and get the metrics moving, but if you're not speaking to people who have the potential to convert and bring value to your business, then you're wasting precious money.
Be clear on your intentions
At the beginning of the blog I talked about knowing what your intentions are when planning any marketing activity. The root of building a clear picture of your marketing performance is mapping out your intentions across all your marketing activities and finding ways to measure how your audience is reacting. Here's my list of the most common intention drivers you should be actively managing and measuring to demonstrate how marketing is contributing to your business:
Drive awareness – are you getting seen (by the right audience)?

Drive consideration – are people showing an interest in you?

Drive engagement – are people spending time with you?

Drive leads – are you actively gathering data to help you connect?

Drive sales – are sales going up?

Drive repeat – are sales from existing customers increasing?

Drive value – is revenue per customer increasing?
The right intentions will vary business by business, sector by sector, so as part of your marketing planning, make sure you're clear on the drivers that are most meaningful for your business and work to align activity and measure success around those.
There's no perfect out of the box solution to measuring marketing performance, the key is understanding your business, knowing what you're trying to achieve and setting out the right measures that are meaningful. I'd recommend having a performance scorecard that's openly shared so that others in your business can understand (and question) the value marketing is creating. Don't be afraid to see metrics moving in the wrong direction – it's all part of the learning process. In fact, if you're not seeing variance, then you're not playing around enough to optimise your performance!
If you're interested in becoming a more data-driven business, you can also watch our webinar 'what do business leaders really need to know about data'.
More posts you might be interested in
As well as our blogs, webinars and podcasts, you'll regularly see us speaking at industry and sector events. Next up, we'll be sharing our thoughts at…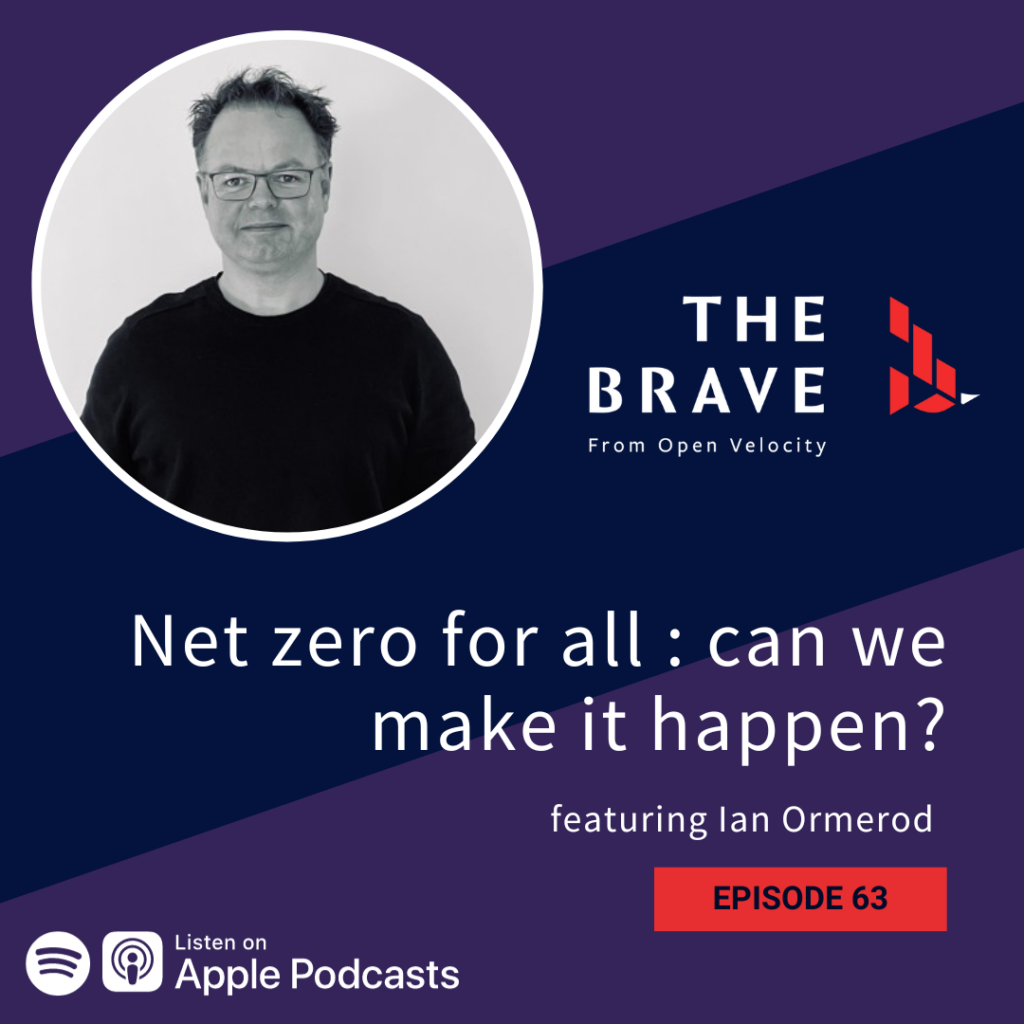 Net Zero for All: Can We Make It Happen? #63
As we step into the week of the 2023 United Nations Climate Change Conference (COP28), we're excited to share our latest episode featuring an insightful conversation...
Read more
Stay tuned in
Sign up to get our latest content and priority event invites.